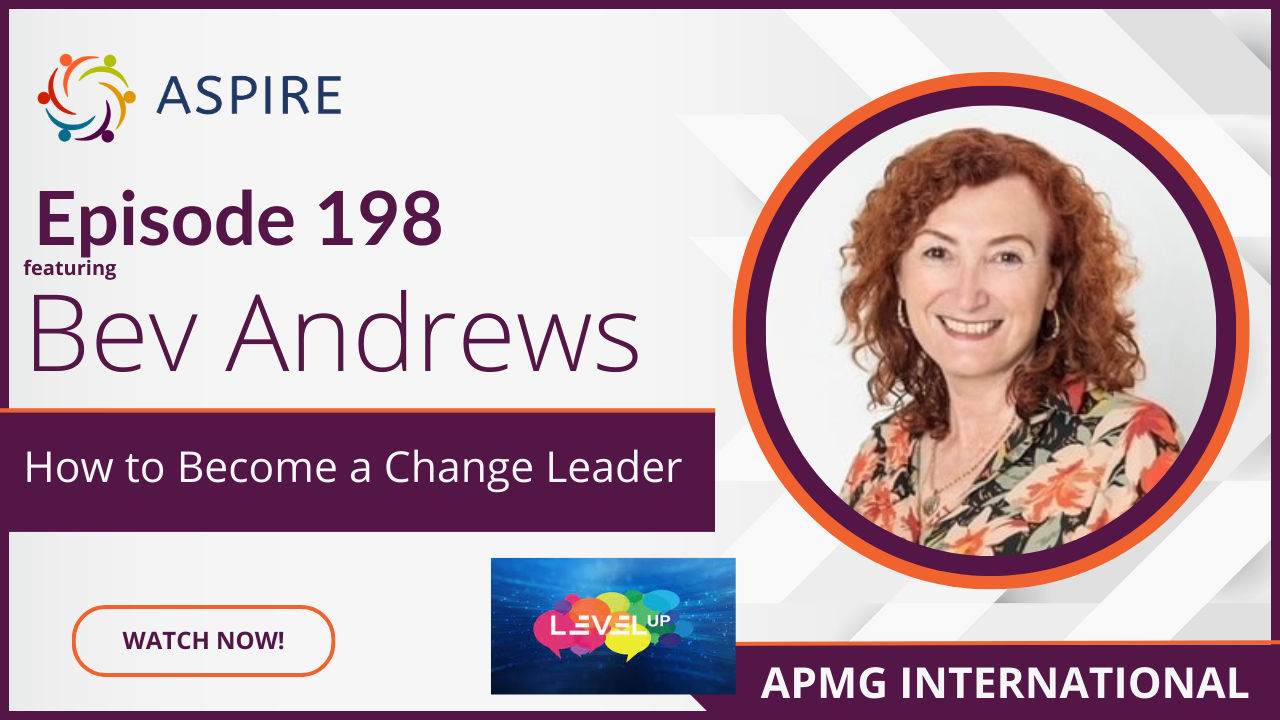 This episode is about How to Become a Change Leader. An opportunity to have your real-life questions answered.
Host: Shanice Mitchell-Cox, APMG International Question Master: Adriana Santana, APMG International
Panelists:
Jessica Crow, Founder and Principal Consultant at Apogy
Nataliya Khylenko, Digital Transformational Leader
Bev Andrews, Director, ASPIRE Change Management
Robert Snyder, Founder & President at Innovation Elegance, LLC.
Laurie Bowman, Project Portfolio Planning and Control, Synchrony Projects
Mart Rovers, Leadership, Coach, Consultant, Trainer and President at INTERPROM
Episode Highlights

00:00:00 - Introduction
00:02:10 - Meet the Panelists
00:06:55 - How to distinguish a change leader from other leadership roles?
00:12:20 - How do I transform my competency as a Change Leader?
00:19:33 - How does organisational culture impact the ability of a leader to drive and implement change?
00:27:00 - How can a change leader measure the success of a change initiative?
00:34:19 - Who exactly is a change leader, and why is this role important in organisations?
00:37:30 - What qualifications are essential to being an effective Change Leader or Agent?
00:46:50 - I presume in large companies (or companies that recognise the value) this can be a specific role; have you all worked as dedicated change managers/leaders?
00:55:40 - Closing thoughts
01:02:20 - The Next APMG Level Up Show


Episode Transcript:


Introduction
hello everyone and welcome to episode 198 of level up your career 60 Minutes

of live Q&A where your questions Drive the show I'm Chenise Mitchell Cox and

I'm your host today so I am delighted to welcome and introduce you to the show

today if you are watching watching on YouTube you can find out more about what we do over on our channel so please head

over to YouTube and give this video a like And subscribe to find out more my colleague Ella is online in the

chat to welcome you so please let her know your name and the city you are joining from so we can get to know you

today Ella will post a link into the comments so you can vote up the questions that you would like answered

the most and of course for you to add your own which you can do throughout the show if your question is selected your

name will appear in the credits at the end of the show so get yours in early and stay with us to see that

happen our topic for today's show is how to become a change leader the role of a

change leader in the transformation process embodies the art of mentorship the skill of facilitation and the

passion of advocacy to steer teams and stakeholders Through the Ever evolving

landscape of a option change leaders Empower individuals to embrace change

and help Foster the breakdown of organizational barriers so how do you

Meet the Panelists

become a change leader to help you answer your questions we've got our expert panel so let's jump over and meet

them firstly joining us on today's panel is Robert Schneider Robert's 30-year

career includes roles as a developer database administrator project manager

change manager and sales enablement he is under PMP and agile

certifications he is currently a solopreneur formulating and proposing what you should do to combat vuka and

succeed software Centric hybrid methodologies thank you for joining us today

Robert I'm delighted to be here Chenise for such a far reaching impactful topic

so delighted to be here with my fellow panelists it's always fun wonderful to have you on the show so thanks so much

for coming back and secondly I am delighted to welcome back Lori Bowman

Lori has over 30 years experience in engineering and management roles on complex multi-discipline engineering and

construction projects Lor is a trainer and adviser on planning Assurance risk

management and control for projects programs and portfolios thank you for joining us today

Lori thank you very much really good to be here Chenise on what is a a wonderful topic so very much looking forward to

today's session thank you so much and our third panelist today is Bev Andrews

Bev is an experienced change management specialist who has devoted the past 20 years of her career to develop to

delivering Business Solutions across a broad range of services it's wonderful

to have you here Bev thanks for coming back on the show thanks Jan and welcome to the

panelists and to all of our listeners I'm I'm sure we're going to get some amazing uh questions

tonight absolutely thank you so much for coming back and joining us today to share his expert knowledge is returning

panelist Mark Rovers as the president at interprom Mark focuses on leadership

coaching with his team of Consultants working in both the US and Europe a

strong believer in giving back Mark has set up and facilitated a wide range of professional communities

welcome back to level up Mark thank you Chenise thank you apmg

for having me I thought that us going with a a quote maybe to set us in a

right mindset uh was from John Quincy Adams who once said if your actions Inspire others to dream more learn more

do more and become more you are a leader wonderful quote I always look

forward to your quotes Mark so thank you so much and our next next expert panelist for today is Natalia Keno

Natalia is a success driven transformation leader brmp and a business resilient accredited trainer

with over 20 years experience of international um experience within the Aerospace Telecom Finance business

Consulting hospitality and Retail sectors welcome to level up Natalia it's

wonderful to have you here thank you Shanice it's a privilege to share um to be able to share my

experience and Inspire others to become change leaders resilient change leaders

because I believe it's the way to go so happy to share and Inspire here thank

you so much and it is a pleasure to have you on the show today and completing our panel today is Jessica Crow Jessica is

an expert in change management and organ organizational Effectiveness in 2019 she

founded apology ay sorry a change management training coaching and

Consulting service firm and is current the current host of a change leader Insight podcast Jessica has taught

coached managed and mentored Professionals for nearly two decades it's wonderful to have you on the show

today thank you for joining thank you Chenise I'm so happy to be here with the rest of the

panelists thank you to everyone who is tuned in this is a topic that is near and dear to my heart being an effective

change leader so I'm really excited for the conversation today wonderful thank you so much for coming today and finally

we have our Question Master who is Adriana Santana and is joining us from the beautiful city of London how are you

today Adriana hi shenise I'm really good it's been quite unexpected uh being here as

qm today but I'm really excited it's always lovely having you as qm and on that note shall we take our first

How to distinguish a change leader from other leadership roles?

question of course so our first first question comes from Leo KO and he wants

to know how to distinguish a chain leader from other leadership roles oh what a great question Leon

thank you so much for being the first one as well and who would like to answer this today we shall go to Lori and then

Robert H thank you for the great opening question Leon this is a a really good

place to start so firstly that they're not entirely separate but leadership people leaders in all

sorts of domains in sporting fields in technical Fields you know it might be

you know specialist knowledge in a particular area what's unique about a change leader is that they're really

able to focus on those human factors to be able to empathize with people and

help them transition from one state to another state so it's really that human side that distinguishes change leaders

wonderful thank you so much and Robert if we could have your insights please I'll piggy back on Lor's two

references to empathy and people if I contrast uh a conventional role of a

change leader they may have colleagues who focus on process or technology uh you might have a a sponsor

a project manager or an Enterprise architect and they're emphasizing other things across the team across

stakeholders and I think a change leader is going to emphasize more empathy and

people Readiness um and minimizing the communication voids across uh across the

the stakeholder population wonderful thank you so much and Bev if you could jump in

now yeah certainly um my first thoughts um and and it's great to hear from our

panelists with our our diverse um views my first thought was very much around um

uh change leadership is part of everything that we do and and every role that we take so when we want to say we

want to distinguish the differences I think we are very much looking at the competencies and the um the elements of

people leadership um and being very conscious that you know we're dealing

with individuals and and human emotions and um a lot of factors that are not necessarily at the surface so it is very

it is those those very um um soft skills

which is I don't like that terminology but those professional skills where you need to be listening you need to be

engaged you need to be present um you need to be thoughtful and kind um and

encourage encouraging people is very much um it's very important but you know my my belief is that we're all leaders

and um leading change is something that that leaders do no matter what format that you might see that in wonderful

thank you so so much and Jessica if you could jump in now yeah I completely

agree with Bev I I like to refer to them as power skills versus soft skills so um

just kind of piggybacking on what you said anyone who is in a position to be leading people or projects has the

potential to be a change leader but what sets this role apart is that compassion and empathy that everyone has talked

about and at the same time I like to think of the role of the change leader it can be a discret role so I think

about change management something you do change leader is who you are now whether you have change management change

leadership as a dedicated role that's one aspect but anyone who is leading people in projects um has that potential

to Be an Effective change leader wonderful thank you so much and Natalia if you can finish us off on this

question yes thank you and to add to it to become a effective change leader in

any role H it's also a key to adopt an agile or growth mindset where we don't

stick to the traditional way of doing things but rather be open-minded adopt

adaptable agile and of course uh empathetic and uh and lead by observing

and by by continuously adapting the way of doing so really avoiding at any cost

traditional approach and sticking to what I know best but rather being curious so that's so very important

wonderful thank you so thank you so much and Mar if you would like to jump in

that would be fantastic yeah maybe a little bit provocative but um I wouldn't call

myself a leader if I'm not able to be a change leader um I know that's kind of out there um I think any leader if you

are a leader you know should you should be able to help people to get from a now to a new I mean Henry ginger once said

the task of the leader is to get his or her people from where they are to where they have have not been um I mean

there's there's many of those uh you know wisdoms out there as in that's just part of what you do as a as a leader

help people through change wonderful great perspective there thank you so much Mark and Adriana shall

we take our next question of course is so we have our

How do I transform my competency as a Change Leader?

first Live question and it comes from sarid and he wants to know how do I

transform my competency as a chain later oo this is a great question from

sabage thank you so much for entering this and we will go to Natalia and Jessica

first thank you so to transform a competency as a change leader it's key

to adopt a a purposeful mindset so really creating a sense of individual

self-worth for yourself but also for for your for the teams uh that change that

the leader uh is is working with and really continuously identifying

opportunities for personal development H in terms of overall capabilities and

skills uh both uh both uh soft skills as we say and the technical skills that

require uh continuous knowledge and adoption to make that impactful change

so I believe that would be helpful wonderful that was a great answer thank you so much and Jessica do you want to

jump in sure that was very well said I agree with that I think in order to

transform your competency it does start with a self assessment of what role you're currently in today and then what

role you want to be in and then thinking about what skills do I need to get to that next step is it leadership skills

is those softer power skills is it technical skills understanding what the

requirements are for the work you're going to be taking on and how you can help people through that process so um I

think it's kind of a two-factor thing start with that self assessment and then figure out where you want to go and what skills you need absolutely thank you so

much and Lori would you like to jump in and provide some

answers yeah firstly I agree with our other panelists wholeheartedly I guess what one element I would add is find

yourself a a mentor somebody who's already ex succeeding in this space for

me my first I guess real Le in change management was dealing with a an

organizational psychologist who was an expert he'd been doing this for a long time he really helped me transform gave

me a whole lot of different tools and techniques that I could use to be more effective absolutely thank you so much

and uh Beth um the thing that came to my mind

um following on from from some of the comments is um the self assessments a really great start but gather some

feedback from um from people that you respect and um and um ask them you know

what are some of the attributes that you display quite naturally um so that you've got that binge mark because we

quite often when we think about our own skills and capabilities we we're quite hard on ourselves and we don't

necessarily recognize what we might have done well um and then we can sort of probe into some of the things around

what what could I improve on and what could I do differently and and how can I stretch myself um so I would suggest

that as two two points and and then as the third one think about um where you

are and and who you've got around you that you think is a great role model from a leadership perspective and is

that the type of skill set um and the way that they demonstrate leadership that you want to then be able to um uh

to grow into um because you want to make sure that as you're transforming your

skills and building your skills that you keep true to to your natural um approach and personality and and language you

know because being a a change leader is very much about being authentic so you know you don't want to take on others

language if it's not the type of language that you might use in day-to-day life um but I think that's

you know there there's some very simple starting points and getting feedback and role modeling or or observing others

that you sort of go like yeah I like their style you know and I think I could comfortably grow into that type of style

myself is is um ALS so another starting point some great advice thank you so

much and Mart if you would like to jump in and provide some answers most certainly and thank you

sarajit um who's frequent Bist on the show and I I almost was thinking he knows the ANS but either way he's uh

also a great Giver so thank you Shaz uh building on be's answer it's indeed that

um being authentic comes also with earning their trust um earning trust

leads me to be and become a good coach uh coach guide people uh Empower people

encourage them um in other words be that person go-to person or become that go-to

person as a change leader that people you know people go through change they feel uncertain they feel uneasy if they

know that you're there the one to guide them I think that would be a good comp compeny to have uh being a good coach

that has earned the trust absolutely there's nothing more uh relieving than

feeling safe when you're going through uncertain times so great great advice there m thank you and Robert if you

wouldd like to jump in I'll spring off Saget's reference to

transform um I believe that many projects many teams fall into a couple

different cliches there's a pattern in the problems when Innovation work gets into trouble and one of the cliches is

that Lessons Learned don't find their way back into the next project so uh I

believe that to avoid being that cliche that change leaders it it they can

distinguish themselves by uh through context

sensitivity and there are Global Frameworks and lessons and and those are great but to be hyper attentive to your

team it's recent past it's recent Lessons Learned I think that can really

build personal compet as well as organizational competency to avoid falling in and being one of the

cliches of struggling or mediocre mediocre projects absolutely that's

fantastic advice thank you so much and Jessica did you want to jump in and add something else I did I just excuse me

had one more thought and I love what Robert you just said about doing that reflection and Lessons Learned and making sure sure those were Incorporated

but Mark brought up being uh being someone that you can coach others and sometimes we need to be coached so sometimes we

need to hire or work with an executive coach some sort of Coach to give us that feedback and that is a role that is

different than a mentor or a boss and it can be very powerful in taking us from where we are today to where we want to

be in the future so sometimes getting formal coaching ourselves is a great way to transform our competency as a change

leader absolutely that's a great uh advice there so thank you so much panelist subject we hope that that's uh

helped you answer your question and Adriana can we have our next question please sure shenise so the next question

How does organisational culture impact the ability of a leader to drive and implement change?

comes from William and he wants to know how does organizational culture impact

the ability of a leader to drive and Implement change oh what a fantastic question

William thank you so much we'll go to mark first and then

Lori I'm going to build off something that the brm in business relationship Management Institute has put forward and

and focus on a culture of strong collaboration with strong relationships

healthy relationships mature relationships between uh people because research has shown that uh organizations

where the relationships are strong between people have a much easier job so

to speak dealing with the amount of change the rate of change in other words

um that could be the secret source for many change leaders to um focus on uh

getting great relationships going in an organization uh since that seems to help

dealing with a lot of changes wonderful thank you so much and

Lori H yes I I agree so how does the organizational culture impact it's it's

really the foundation that everything is is built from the organizational culture so certainly um it's a good place to

start if you're looking to implement changes to actually start by exploring and understanding culture itself so you

really want a culture that um is open is supportive um creates an environment of

psychological safety and if you can combine that psychological safety with

accountability you're likely to have a learning organization an organization that can adapt that can change to to

most situations that's powerful thank you so much and Natalia if you'd like to answer yes yes

to add to it so really successful change lead ERS uh need to take the time to understand the culture of the

organization and its and leverage its strengths and uh and in the change

process always uh ensure the diversity of thinking uh on the back involving

different backgrounds experiences and Knowledge and Skills of various contributors and stakeholders of the

change and it also helps a lot to maximize the the CH the outcome and

deliver the change expected thank you so much and

Robert I think that a culture of two-way

accountability makes it easier to drive and Implement change a culture of one-way accountability makes change more

difficult High discipline culture of high discipline and high empathy makes it easier to drive and Implement change

a culture of low discipline low empathy complicates change and um my final plug

would be for improvisation skills I love how improv teaches the phrase I got your

back improvisational uh practitioners will start meetings where they turn toward

each other literally physically tap each other on the shoulder and say I got your back um because that's it's a

confrontation with a culture of watch your back that is psychologically unsafe

so I just want to make a plug for improv skills and and how it's a commitment to

each other's success fantastic thank you so much and um let's move on to

Jessica yes great answers uh and responses so far um you know when I

think about culture there's a saying culture eats strategy for breakfast and that's entirely true you know you think

about an organization will have its goals and objectives and then each team will have its goals and objectives which

means teams and business functions are often operating in silos and if the

leaders of those business functions we talked about relationships quite a few times don't have strong relationships

High trust High discipline High empathy that's where the conflicts and collisions happen and the willingness to

support changes that are being driven from the different function so in order for Change and Innovation to happen

smoothly and successfully there has to be strong relationships across teams and an awareness and respect for the

different goals and objectives Ives of each business unit and how it all aligns with the bigger picture wonderful thank

you so much and Bev do you want to finish us off on this question yeah I I was just going to um

talk a little bit more around um you know there's a lot of of information on

what um sets a really good culture and you know an environment for change um

but you do need to really ensure you understand how that um how that culture

is going to work for or against you um you know we know that we get better results if we're collaborating and

co-designing and and we're bringing the human element into our work but some

organizational um environments just don't enable that to happen and that

could be through Legacy and history it could actually be the fact that it's um

quite an old style machine type of um environment it could be just

you know just the pace of change and the things that are happening um right now um or it could be the fact that the

organization is on a journey to try and and you know make a improve and build a

really new vibrant culture so as a change leader you do need to assess

where the organization is you do need to ask some questions around well you know what you give us an example of a really

good change that's happened here recently and and why was it good and and and and was the result and what wasn't

such a great change that happened here and why and what was the result and is it Lessons Learned but it's giving you a

sense of how things get done here you know what what are the the the things that you might just have to chip away at

you're not going to get a quick win um and what are some of the things that are just not going to work right now because

not everybody is going to come into a a room and and be very vulnerable and and

open up um so just finding the Cadence the balance of where the the

organization is and where it's come from so that you can actually pick the right skills the right time um and and the

right Cadence to to start to try and shift and drive some of those changes

wonderful thank you so much fantastic answers panelist and William we hope you enjoyed th those answers we're just

going to jump over to social now and see who's joining us so we can see that sabage is here hi saage he is a regular

LEL panelist so it's lovely to see him in the audience and he's joining us from Singapore today um we've got uh ncot uh

sorry I'm trying to pronounce that n nisak from Hall in the UK wonderful to

see you here thank you for joining it's lovely to see so many people from around

the world joining these shows and CA from London wonderful to see you um I

think you've joined to a couple of our shows before so it's nice to to see you back in the audience

today Adana shall we take our next question of course so our next question

How can a change leader measure the success of a change initiative?

comes from Louisa Clark and she wants to know how can a change leader measure the

success of a change initiative oh fantastic question uh

we'll go to Natalia on this please thank you uh I would uh I would

say this through purposeful mindset and elevated energy what does it mean so

when we begin the change initiative it's important to create a sense of individual selfworth for all those

involved in uh in the change and to ensure that people uh understand the the

value they bring at all levels of the organizations and through throughout the

change uh process it's very important to maintain that elevated energy and uh

really celebrating uh visible achievements and the actual increments

so celebrating successes as well as I as well as paying attention to also all the

lessons learned to be able to integrate them in necessary in the ongoing change

initiative or certainly uh understand how everybody grows from those uh from

those lessons and that would would really help uh um measure change

through those processes and have everybody involved through the purposeful mindset what a fantastic

answer thank you so much and Robert if you could jump in now I'd like to offer a super structured

answer and I'm going to lean on my favorite change management framework

adcar measuring the success could be did I achieve 100% awareness of the

initiative among stakeholders did I reach 100% desire did I reach 100%

knowledge ability reinforcement because I I think a key responsibility of change

leaders is to minimize uh leadership voids and communication uh you want to minimize

communication gaps so I'll offer that as a super structured answer leveraging the

Adar framework perfect thank you so much and beev um I was going to jump in and and

talk as well around some of the tools that um you can use and um I've used Adar and I but I use many many tools and

that car is is one of those to help supplement um some of the measures so

you know we do changes because we're trying to achieve an outcome for the organization so it's an increase in

sales more efficiencies you know save money whatever it might be um and we need to make sure that we understand

what that might look like once it's actually into the organization so you

know what are those hard measures that we need to um to track along um and then

what are those um more intangible ones you you know which is very much around that engagement piece and and the um

desire to to engage um and you know that there there little things that you can

do to measure the changes as you're going along little slido things um you

know the feedback elements the actual making sure that the changes are made um

through the operations not just um from Goodwill for people because when we're

all you know I don't want to sound negative here but when we've got a high level of energy and positive you know

and we're feeling really great about it how do we actually then it's very hard to stay high and energized day in day out when you've got work coming at you

and changes coming at you all the time so you know finding little ways that we

can just sort of make sure that these little steps that we're taking and that we're measuring for our success and

we're achieving that we don't slip back because it gets too hard some days so just finding some of those those Mees me

sorry those measures that are hard and um intangible and and just balance them

and just keep momentum going at a at a pace that works for everyone wonderful

thank you so much and Jessica yeah excuse me um I like to

think about measuring the success of an initiative in two different ways one being at the individual level one being

at the organization level Ro Robert brought up Adar um I use a methodology or a framework uh called Art aware ready

train so having those checkpoints of awareness are stakeholders ready for the

change are they trained are they do they know how to successfully change and then I think about at the organization level

you know adoption is a big piece so the framework that I use is called super it's satisfaction utilization being that

adoption piece proficiency being how um are they doing you know what they need

to do correctly uh engagement is e and then R stands for resilience or results

and that gets to the business outcomes that Bev was mentioning so those are a big piece of you know was this

successful the key too is sustainment have your stakeholders continued on in

the new ways of working and behaving because change that isn't sustained is not valuable to an

organization wonderful thank you so much that was really helpful and Mark if you would like to jump in

here jumping off of Jess's answer that was talking about training I'm going to

give it a different spin um when you go through organizational change as a person then you start thinking

differently and acting differently that's what you eventually want to accomplish um what what I always find

fascinating to see is when people that are going through these changes when they become teachers and help others uh

going through these uh these changes is in other words um that teaching element

is also the highest level of understanding you know what the change is all about and when you see them

helping others by teaching them as in this is uh you know what works what doesn't work this is what I went through

uh in other words be be the teacher becoming teacher is to me is a great measure of success in other words uh

this change is now you know becoming part of people's way of thinking and acting absolutely fantastic thank you so

much Mark and um Lori did you want to jump in this or have we answered it all

already yeah so I certainly feel like my response was really covered in particular by Jessica it's really for me

having those two perspectiv so the original business perspective the business case what was the benefit what

was the intended business outcome measuring from that perspective as well as the delivery or the change anger

perspective what was the experience for for the people the human beings who had to deliver and make the transition themselves at an individual level

fantastic thank you so much for jumping in there and we have got we are halfway through the show so get your questions

in now so that we can get you some answers from all of these fantastic experts on the panel today Adriana would

you provide us next question please sure our next question comes from

Who exactly is a change leader, and why is this role important in organisations?

prep Prem Kumar and the question is who exactly is a chain leader and why is

this Ro important in organizations fantastic question Prem thank you so much Natalia will'll go to

you first and then Lori thank you so a change leader is a

critical figure in an organization because it allows organizational ability to adapt grow Thrive and uh make

progress in a dynamic business environment and it's an essential role because change leaders help manage The

Human Side of change uring that people are engaged motivated and equipped to

embrace new ways of working and Achieve organizational goals so a skilled change

leader a passionate change leader can really make a a significant difference between a successful change initiative

and one that falls short for its objective so I think the previous ideas

we've shared certainly will will help uh those listening to maximize their impact

in their respective roles absolutely thank you so much that was a great answer and Lori if we could take your

answer on this please yeah completely agree with Natalia and I would add it's anybody in

an organization who's a good listener so anybody who themsel allows themsel to be

changed by others by listening and empathizing and understanding but also

has a desire to make better to do things better so even at that micro level everybody to some level is a change

leader as much as they're listening and having a desire to do things better wonderful thank you so much and Jessica

if you could jump in now sure laori you took the words out of my mouth in terms

of anyone can be a change leader based on the you know the the criteria you just outlined and at the same time there

is value in having someone or a team of people that are focused on enabling the

individuals in the organ organization that Human Side people side of change I like to think about a boat will Sail

Without a captain but the importance of having someone who is a captain sets the tone they model the responsibilities

they set the objectives they bring in some of that discipline that Robert mentioned earlier so yes anyone and

everyone has that potential to be a change leader but when there is something that is happening in the organization where people need to change

their behaviors it's really important to have a few people at least one person that is focused on the people side of

change absolutely fantastic thank you so much and Robert do you want to jump

in two terms trust and relevance change leaders help organizations and

individuals trust each other and be relevant um environments that have low

trust and low relevance are rudderless to use Jess's boat analogy um yeah I'll

leave it at that trust relevance wonderful thank you so much

they were great answers on this so fantastic Adriana should we take the next

What qualifications are essential to being an effective Change Leader or Agent?

question of course we have a Live question next coming from Jo and the question is what qualifications are

essential to being an effective chain leader or agent fantastic question Joyce thank you

so much and who should we go to next who would like to answer have you stomped

our panel for today okay we'll go to Robert first of all then

Lori I'll I'll give give a a very narrow answer uh that's a certification I'm

aware of uh and there might be there probably are multiple certifications the

certification that I'm aware of is called a ccmp a certified change management professional so that's a very

academic very strict answer um wonderful thank you so much and we'll

go to uh Beth please I was um was thinking something

completely different because I was thinking of like for me the ccmp um certainly helps you with your leadership

but it um helps you with understanding a lot around the change um and I was

thinking about all the different things I've learned and the courses I might have been on um and I don't know if

there's actually been anyone in particular um you know I can think of

things like in Australia we have the Frontline manager so

certification um and that teaches you a lot of the basics from you know how to

manage and from being able to manage how to actually then um uh think uh

conceptually and um you know provide some of those skills that we've talked about around the consistency and and

things and um and then you know doing some of those uh assessments like your

your disk profiles um um having the opportunities

to to work through development planning like I I I just think there's so many different things you can learn no matter

what um course you're doing whether it's a a two-hour master class in something

or you know your MBA you're going to learn lots of different things and you're going to find something in

everything that you do so I think it really comes down to where you are in your own um development and the options

available to you and where you think that you might want to start to build some of those um those skill skills and

then you might find a qualif qualification that actually helps you with any of those gaps that you've

identified fantastic thank you so much and Jessica yeah B and Robert said it um

perfectly it really depends on the role that you are in and the role that you want to be in so if some roles require

having a change management certification so going out and pursuing those there are there are several um but some roles

uh you know you could be a project manager you could be a business relationship manager you could be an operations or strategy having a change

management certification will serve you because it has that training but I like what Bev brought in in terms of

understanding yourself and that self-awareness piece through um assessments that you can take dis is one

you know there's Meers Briggs there's uh you know performance indicator so there's a lot of different ways to do

that self check but in terms of the specific qualifications I really think it depends on the role that you're

pursuing and seeing you know what does that job description and profile look like because not every role is going to

require having a change management certification I would still plug that it's a great a great thing to learn um

in any leadership uh role fantastic thank you so much and

Natalia yes thank you and I want to emphasize on the key word of this in this question it's effective change

leader so uh when talking about effective of course uh specific

Frameworks related to change management are essential to to to just to to have the structure around it but uh to add to

it and again depending on the role but I think it's an added value overall a business relationship management

professional uh certification would be highly recommended because again it also

provides a lot of valuable um information on how to build that

capability of business relationship management uh as a change leaders are

involved with the team with the various teams with and need to apply a holistic

approach to maximize that Effectiveness so uh really those components and the

and the um capabilities learned throughout this uh certification really

helpful and also I want to add about resilience uh resilience certification is also an important to prepare to be

prepared for the unknown unknowns and be able to quickly adapt uh those two I

would recommend fantastic thank you so much that's a great recommendation as well by the way Lori if you'd like to

jump in now um well I agree with everything that

the other panelists have said so far and I would disagree that there's any qualifications that are essential and

and I would agree with the other panelists that it really depends on the role and what your own sort of gaps are

in your own capability certainly for me I can talk about my experience for me I I did I studied organizational behavior

in an MBA which I found fascinating gave me all sorts of models in which to conceptualize things but it really

didn't help me be an effective change leader what really helped me was a um I

did a a master practitioner course on neural linguistic programming and it was very experiential and and that's the

nature of change management it's it's got a lot of nuances it's about understanding people and a lot of the

the subtleties and sensitivities so for me from an engineering sort of background I found uh you know the

experiential type courses like neural linguistic programming really transformative for me as a person but

also as a change leader fantastic thank you so much and Bev do you want to jump

in yeah I just wanted to sort of um just add add on as everyone was um sharing

their insights um I think there's let's not confuse or let's just understand the

differences between when we talk about being an effective change leader um

compared to being an effective change manager or practitioner because um

leadership is a as a Skool that is something you can acquire for no matter what work you're doing change management

um like particularly when you start talking about some of the um like the ccmp and um other other types of um

programs is is really around giving you the basis from a change management perspective but if you were going to seek a

qualification so that you've got an understanding of what change leadership looks like and what the field of change

talks about as well as how to I actually put some of that into practice then obviously you shouldn't go past the apmg

change management foundation and pratitioner course um because that's you know I personally use that one as the

basis for for anyone that I'm talking to for those skills um and that and and our

program is then based off of the change management institutes change management M um body of knowledge and that's a

really good starting point it's a competency framework and it gives you all sorts of insights of the types of

things that occur around that are wrap around the change Management Field and the different competencies that actually

um sit sit within that and so you can sort of start to break it down you know do I actually to Be an Effective change

leader what are some of these things that I might need um and I like the word that Jessica used about the power um

competencies as opposed to the the softt the soft skills so um looking at you

know what is it that I want to do and then finding the qualification to fit that and do you actually need it or not

if you're going to go into the change Management Field then it gives you a lot of credibility if you do have a

something a little bit more formal behind you fantastic thank you so much and Jessica do you want to finish us off

on this question sure yeah I Bev's clarification of of leadership and

change management and if you're going into that field is really important I do like how Lori brought up that you don't

necessarily have to have qualifications and Natalia mentioned resilience sometimes being effective takes time so

it does come through experience and getting feedback from your uh peers and

superiors and the people that are working for you in order to become more effective and incorporating that and

that is also how you develop resilience you get those you know the feedback that sometimes stings a little bit it's

recognizing hey is something I can work on and I can move forward and go through this and that actually models the way

forward for your team to be more resilient and feel forward and uh you know in the same way

so fantastic continuous Improvement is absolutely essential isn't it so

fantastic answers panelist thank you so much and Adriana can we take our final question for today

please of course our final question is another Live question from Jenny and she

I presume in large companies (or companies that recognise the value) this can be a specific role; have you all worked as dedicated change managers/leaders?

wants to know I presume in large companies or companies that recognize the value this can be a specific role

have you all worked as dedicated chains managers or leaders what a fantastic question Jenny

thank you so much do you know what I think we're going to work our way around the panel for this question if you're all okay with that so we'll start with

Robert and then Lori sure um so yes I believe in larger

companies where where generally roles are more narrow smaller companies you you're more

prone to wearing many hats larger companies you will wear fewer hats on average I believe I have worked as a

dedicated change manager when at my previous employer a team of a dozen

change managers were all laid off at the time I was mid project I had my I was

serving as project manager my change manager disappeared I inherited his work

so I joked that instead of the Lexus of change management I became the Toyota

with all due respect to Toyota owners uh so um I think a lot of us um Can

accidentally weave or find ourselves um in this change

leader um change manager and I don't mean to you know blur the lines there

too much um but I think often times serving in a role formally or with the

can be somewhat accidental perfect thank you so much and

please uh yeah great question Jenny and and I do agree that in particular the

large companies the value is is recognized and it uh it becomes a specific role with um and that's

continuing to increase as the level of change and the level of complexity of some of the challenges that we're

dealing with continues to increase so for me I've never actually worked in a as a change manager per se but I was on

a mega project involving a very large um complex change initiative that very much

had a very strong change ma management element and I was very fortunate that at

the exact same time this uh this this project was happening there was also a culture change initiative within the

organization it was led by organizational psychologists in the HR department so I became the change

champion for our program for the broader culture change initiative and it was uh

yeah one of the most most extraordinary experiences of my career so the amount I picked up and our ability to transform

systems processes and people was you know far greater than anything that I'd experienced ever ever before so

certainly haven't been a change manager have been a change champion and been very fortunate to learn from some people

who were some very skillful change leaders who really enabled our project to go through much more leanly and much

more effectively than it would have otherwise perfect sounds great thank you so much Lori and

beev um definitely that's um been my bread and butter for for quite a period

of time um and I've worked on anything from from what's perceived as uh simple

easy change which quite often is the opposite uh through to very complex transformation programs merges and

Acquisitions um and anything and everything in between um and what I can

say is that it really does depend on the organization yes bigger organizations might have more of a budgeting and and

more of awareness potentially of uh why they the importance of change and why

they might need dedicated change focused resources um not always strictly true

and um noticed that when money gets tight quite often the change or the training elements within um projects

particularly get get shut down um and with projects you quite often see that

the the product is delivered into the organization you know the Go the whole big go live and and then the project

moves into its transition out and quite often the change um resources are

transitioned out at the same time but as we know change actually occurs um when people are then asked to actually adopt

that change that's when change occurs so um but not big not all big organizations

at actually have changed people in there because it really does come down to the maturity of the senior leadership and to

what their expectations are so if you're looking for change roles

um they can be C called lots of things in organizations um the main thing is to

ask what's expected what are you what are you delivering what's your outcomes and what attributes do you need to be

successful in the role um and go from there fantastic thank you so much Bev

and Mark well take a hard look at the question uh

from Jenny uh where she states it's it's something just for large companies I'm

thinking she thinking of uh change managers um but if I go back to the uh

show the title of our show today change leaders I think I mean I needed in every

size of every company um it's not just uh you know something that only large companies need um but again that's an

academic answer um if I'm looking at you know going back in my career as far as

being a leader change leader um having been involved in many cultural changes

you know being the one that empowers educates uh earns the trust of people

that that to me is as in and the most rewarding that comes from this um again

when you see people that pick up on that energy and pick up on those new ways of

thinking acting that to me is something that any leader should take on and it's

not just for large companies thank you so much Mark that was a great answer thank you

Natalia yes to answer and share my experience yes as a transformational leader I have been involved in uh also

Global transformation projects as a change Management Consultant and uh I have contributed

also had an opportunity to contribute to delivery of an effective transformation

initiative IES and yes large organizations uh from my experience do

appreciate and this role and value this role as um different um uh stakeholders

and different contributors to the project they have their specific skills uh often technical skills and

communication skills are also one key attribute of a effective change leader

and if you have those if you are well aware how to use uh communication tools approach coaches and adopt them for for

Effective delivery certainly that that is a specific role it's it's a it's a

full-time role in the project especially a big one in the company and and therefore uh it it plays an important

role and valued by organizations that's from my experience thank you so much

that was a great insight and Jessica would you like to finish this question for me sure and I'm going to answer

Jenny's question backwards by starting with yes I have been a change manager uh

more than a decade ago I was hired into an organization to do change management specifically and then I stayed in that

organization went into many different roles and used my change management skills in those roles now as a change

Management Consultant having worked with many large billion dollar companies I can say that it really does come down to

value and not necessarily resources so Bev mentioned the maturity of the leaders in the organization and I will

reinforce that message um yes large companies may have the ability to hire

and retain a full-time change management person or invest in training change

leaders across the organization but whether or not change management change leadership is embraced and becomes part

of the ways of operating the cultural norms really depends on the uh the

executives the leaders the the managers and individuals within within that company so um it's it's a diverse

opportunity I'll say that to be a change leader thank you so much they were great

answers panel and it was wonderful to hear your experience as change managers and leaders um so shall we move over to

Closing thoughts

our final remarks we'll start with Robert and we'll just go around and uh yeah if we'll start with you

Robert my favorite definition of Change Change leadership is from uh a

family member of the the the company Motorola his name is Chris Galvin and

his definition of change leadership for us was taking a person from point A to point B for their benefit where

otherwise they might not have gone and so I I love the um the ambiguity the

delicious ambiguity in the title of today uh about change leadership and I admire my

fellow panelists for the diverse ways we interpreted different directions we went

and I I think it's one of the most exciting places to be in a company in a in a team in an ensemble and so I hope

our our audience um appreciates and aspires to being who their teams need

them to be uh servant leaders and and uh relishing each opportunity they have to

bring teams companies and customers uh to a better place fantastic thank you so much and

Lori thank you again and thank you fellow panelists I learned so much uh from you all and thank you viewers for

your your excellent excellent questions um but for me there's no better topic to

talk about really you look at some of the challenges we're dealing with on a global scale let alone individual

projects the the level of change that's happening around the world the eration of Technology some of the climate

challenges some of the the conflicts that are bubbling up there's never never been a better time to become more

capable more Adept at dealing with change and and supporting people to navigate through that change so thank

you thank you for the opportunity to talk about such an important topic and thank you for coming on the show Lori

it's always so wonderful to have you here and Bev if we could have your closing remarks

please sure um I concur I think it's been a lovely session and I think it's

one that we could probably talk many times over um I think my passing my my final remarks are really around um you

know how do you become a change leader and I thought I'd just give you some of my insights of some simple things that

you can do regardless of what your role and position is in an organization and your aspirations but um Step Up you know

own where you want to go and and have a little bit of confidence and and look for those opportunities where you can

proactively within your own skill and not not um not put yourself out too far

out of the comfort zone but step up and step into something where you can actually start to demonstrate some of

your own skill um energize others you know that energy and power and um um it

it just creates a really great Vibe and and people will naturally um um look for

and and engage with with energy um remember that we're humans and humans

like to connect so um look at how you can connect with others and keep

connected with people those little things around I just want to check in um that that just shows natural leadership

and Care um and my last comment is that leader leadership is around you're

serving you're serving others and you're assisting others to grow you grow yourself through those interactions but

um you know just have that little bit of a I'm I'm serving someone I don't expect anything from it except for the

intrinsic joy of seeing someone actually grow into their potential thank you that was so lovely

beev thank you great answers um and mark thank you Chenise uh great great

questions by the way Adriana thank you for uh presenting those to us and uh wonderful answers I think another very

informational episode worthwhile uh looking at it and uh watching it again and again um since we all know change is

a constant I'd like to um mentioned a a very short quote from Jack Welsh who

once said change before you have to wonderful quote mark thank you so

much and it's always so wonderful to have you on the show so thank you uh Natalia yes thank you and uh really to

add to Mark's quote from Jack Wells yes it's

really change begins within you so we need to be proactive curious identifying

what what's next and really uh with the right mindset and tools we can make that

lasting impact so I really uh want to remind audience that uh to just go out

there lead with purpose be the change you want to see in the world and keep its inspiring keep innovating and keep

leading the way uh leading by example and uh that would make you stay

continuously stay motivated and and resilient and keep keep leading the change thank you for this discussion it

was a privilege to share experience and also learn valuable insights from the fellow panelists and thank you so much

for coming on the show today it's been so lovely to have you here and your insights thank you and

Jessica yes thank you um very much for having me on the panel thank you to the other panelists in apmg for hosting this

really important conversation I'll just leave it with one question you know when you think about what it does it mean to

Be an Effective change leader ask yourself am I the type of leader that I would want to follow and maybe that's

your your North Star your starting point for you know where you need to go and what skills you need to further develop

and enhance and and let that take you you know on your on your own personal change Journey so wonderful thank you so

much Jessica it's been lovely having you on the show today and Adriana what a what a great show e how did um how did

you think today went I think it was amazing I agree with Mar we had such amazing questions and

even better answers from all of our panelists me personally I have learned a lot listening to all of you so I hope

the audience also learned a lot thank you so much and I'd like to thank you our producers for your excellent

questions today great job and watch out for your name in the credits and don't forget that you can listen to the audio

versions of the show on your preferred podcast platform um we have some great

shows coming up in the next couple of days on Monday the 30th of October we

The Next APMG Level Up Show

will be looking at how to build engagement with stakeholders and on Wednesday the 1st of November at 4:00

BST validated research findings on the hath double method which is a webinar

and Friday the 3rd of November at 2 o'clock we will be looking at how to

become a project manager so thank you for tuning in to the show and we will